You can view your QC Viki Pass benefits on the Subscription & Settings page. Located in the top-right corner where your profile avatar is.
Once our system has automatically applied your benefits to your account, the display of your subscription will change to this:


There is really no need for you to click on "RESUBSCRIBE TO VIKI PASS". However, when clicking on the "RESUBSCRIBE TO VIKI PASS" the display will show this: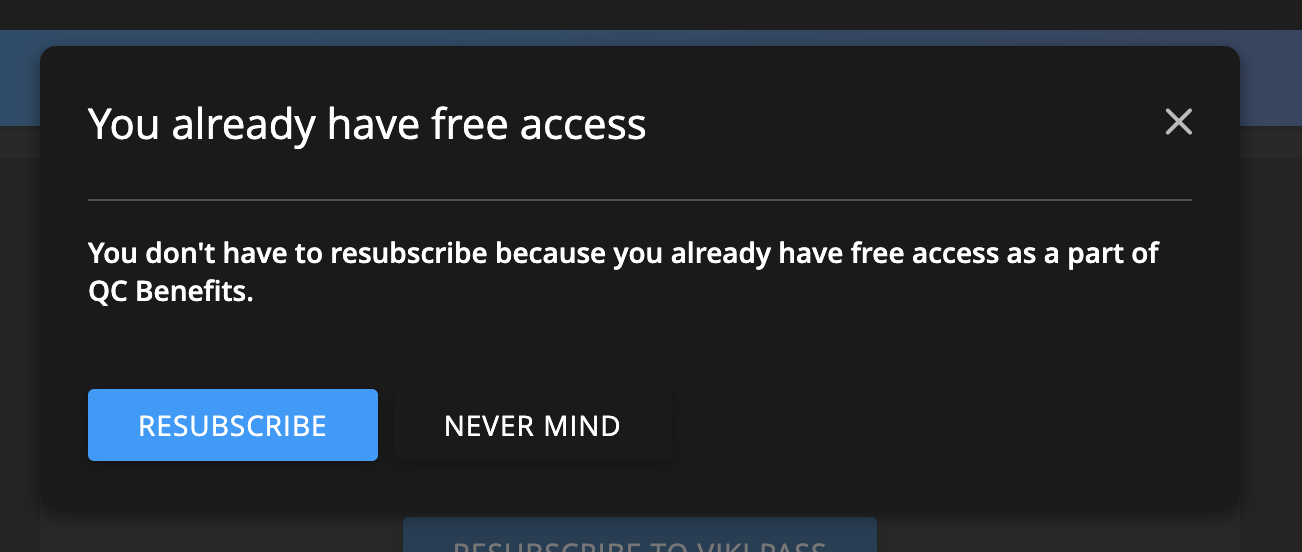 QC Benefit Tags
Another change that will also happen, is that now you will also see your Viki Pass tag next to your profile picture:

| | |
| --- | --- |
| QC benefits (Plus) | QC benefits (Standard) |
| | |
If you have a paid Viki Pass subscription and active QC benefits at the same time then both tags will appear on your profile, as shown below:


Note: Benefits are valid for six months and will be renewed if renewal requirements are met. You also cannot change the Viki Pass plan granted to your account.
Please be aware that you must not cancel or attempt to upgrade your QC Viki Pass subscription once it has been added to your account.
If the benefits were applied directly to your account, by canceling, you would effectively lose your Viki Pass benefits on the next renewal date.

Suppose you attempt to upgrade the Viki Pass plan assigned to your account to one not available in your region using unauthorized means (such as VPN). In that case, Viki will not recognize the benefit, and you will have to bear the total cost of the Viki Pass subscription

.